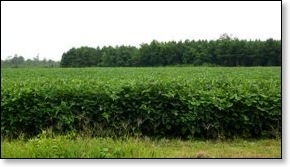 With miles of beautiful beaches and a thriving tourist industry, it is easy to forget the farming that goes on in the county.
While most people are familiar with the produce farms that have roadside stands, fewer people wander off the roads to see the fields of corn, soybeans, wheat, or cotton that often dot the landscape.
While this is a great field of soybeans on West Firetower just after the intersection with Peletier Loop. You don't have to drive far up towards Maysville to see some fields of corn that haven't been as fortunate when it comes to moisture.
We farmed for over ten years in Canada, and it is probably the biggest gamble that you can take in a business unless fishing surpasses it.
With farming you can spend all the money and do everything right and still end up with nothing.
I had a nice steak for lunch today. It was a porterhouse that was on special. It ended up costing just a few pennies over $6. I'll get two meals out of it. It is scary to me that beef prices aren't that much different today than they were twenty-six years ago when we dispersed our cattle herd.
Diesel fuel cost almost nothing then. I can't even imagine what a tractor costs today and how much it costs to operate it.
I am thankful for the farmers who plant the crops and have the courage and skill to keep ahead of the market. I know it is hard.
While I am talking about farmers, I have to get in a plug for the fishermen. Their job hasn't gotten any easier either.
I make it a rule to buy local produce and local fish/shrimp whenever possible. I would like to see the next generation have a chance to make those family businesses work.
We are blessed with a climate that provides an oppotunity for success just as the waters in the area provide the same chance for the fishermen.
There are no guarantees fo success in this world, but if there are two businesses that should get help in tough times, it is our farmers and fishermen. We cannot do without them.