Apr/18/08 22:56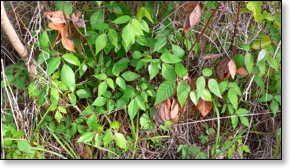 Well there are finally some signs of green on the Tideland Trail.
Unfortunately the green is an explosion of poison ivy.
I would recommend that anyone dogs be very careful. The poison ivy is growing along some of the rails and is close to being in the trail in places.
Even as a hiker, you have to be careful since the poison ivy seems to be everywhere. It is pretty easy to get poison ivy from touching your pet after they have rubbed fresh poison ivy.
My wife often got it from one of our casts.
I am hoping the park folks get to work soon and knock back the evil poison ivy.
Going to the beach was a pleasure after watching each step to make certain we did not brush any juicy poison ivy.