Apr/09/08 22:16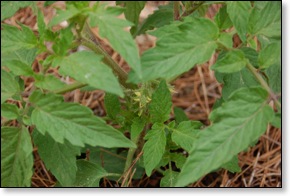 There were some real reasons for our move to the Southern Outer Banks.
One was to get a head start on the growing season.
While I do not grow the huge gardens that I used to in the past, I take my tomato gardening seriously.
Getting a few weeks head start on my friend Mike in
our annual great tomato race
is well worth moving.
All
the other great benefits
of living in Carteret County and Bluewater Cove are just icing on the cake.
We just made
a trip down from Roanoke, VA to Carteret County
. We got to go from the daffodils, cherry trees, redbuds, and tulips in Roanoke to Dogwoods and wisteria here on the coast.
I am really hoping the pine pollen is mostly gone. It was giving me a fit last week.
The biggest surprise on arrival home was seeing a couple blooms on my early tomato plant.
It was a great trip with a fantastic reward at the end. Just maybe I will have ripe tomatoes before the middle of June this year.