Crystal Coast, Swansboro, Fishing, Bogue Inlet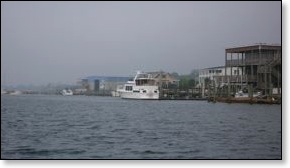 Weather is always a big topic when you get coastal locals and especially boaters together.
Most of us would rather be out on the water than behind a desk. The weather never ever cooperates perfectly.
Monday a friend and I headed out to Bogue Inlet. We had been trying to get together to fish for about a month without any luck.
Finally this Monday schedules, winds, and tides cooperated. Still by the time we got to Swansboro things were getting foggy.
When we turned from the Intracoastal into the channel heading out Bogue Inlet, the fog got dense enough that we turned on the skiff's running lights.
I have written about how rarely
the Fog Fairy visits
our area before. This case was really no exception. The fog was gone shortly after we encountered it. By 9 am we were seeing blue sky. It wasn't long before we had nothing but sun and a few clouds.
We had a great time in spite of only catching one black drum. I posted
a few pictures of the adventure
.
While enduring this heat wave I have been playing around with
high definition movies
. Not surprisingly I tried to take one that would showcase the hot weather that has been hanging around the coast. It is done to the tune of heat pumps.
We have been looking for indoor activities. I managed to
snap a few shots
at the Duke Marine Labs last Saturdy during their open house. We got to look at Beaufort from a different perspective.
That album is interpersed with my other weekend activities, kayaking, fishing, and boating. The hot weather hasn't managed to keep me from having a great weekend
This week has been especially hot. I considered moving back to Canada after barely surviving Wednesday's heat and humidity while I was mowing the yard.
Today we finally got some rain and storms which are should help the hot weather exit our area.
This morning the temperature is down to 71 degrees. I am looking forward to the cooler weather and getting back to swimming. The pool has been so warm that it has been a couple of days since I did any laps. Of course now one of my ears is bothering me.
I have managed to keep up my bike riding by staying in a shady lane but trying to swim laps in a hot pool is more than I can take.
Thankfully we aren't too far from fall which is the nicest season on the coast.
Soon we will have cool nights which let us sleep with our windows open once again.
Then we will be back to paradise. The couple months of warm, humid weather isn't too steep price to pay for the temperate climate the rest of the year.