fast food, Reasonable prices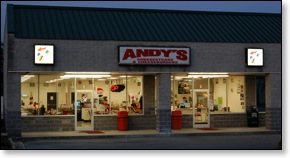 One of our favorite spots to grab a quick meal is Andy's in Swansboro.
When we get a craving for a cheeseburger or a cheese steak sandwich, Andy's is often at the top of the list.
It is a great alternative to your normal fast food places. They cook their food to order, and the food almost always makes it to your table quickly.
We really enjoy their fresh orange-aid and lemonade. They also seem to have a very clean-cut group of teenagers running the place. There's often good music playing, and it is always clean.
You can either eat at the counter or have a seat and your order will be taken and the food delivered to your table.
The restaurant is spacious and bright
so you do not feel crowded or rushed. It just out of the way enough so that many of the tourists miss it.
The great food, friendliness, and cleanliness make Andy's a favorite for us locals for an inexpensive meal.
In April they are running a six inch Cheese Steak special with fries and a drink for $4.99.
Their official address is 686 W Corbett Ave. Swansboro, NC 28584 and the phone number is (910) 325-0300.
If you are headed out of Swansboro, turn right at the light just before the Walgreens and Andy's will be on your right.