Sep/12/08 22:40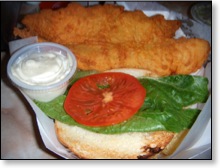 We had noticed
ChowdaHeads
opening over on Emerald Isle earlier in the summer. We also figured out that there wasn't a lot of parking so we put off trying their food until the summer crowds disappeared.
We were pleasantly surprised the first time we went. We both ordered the Smitty's Big Fish which is slab of Grouper on a Kaiser roll. It turned out to be very good, and an excellent buy at $6.79.
ChowdaHeads' menu
has a number of tasty treats worthy of exploration. I have also tried their chowder which I really enjoyed at the restaurant. I even bought some to bring home but it did not keep well, so I still a little undecided on the chowder.
We are pretty fussy about chowder and have on own
Sobotta family chowder recipe
so we may just be hard to convert to restaurant chowder.
We also tried the mini-desserts that ChowdaHeads serves and found them to be delicious.
We are looking forward to going back to ChowdaHeads for a third exploratory trip.
If you haven't tried it, it is definitely worth the price of a meal.
May/11/08 22:07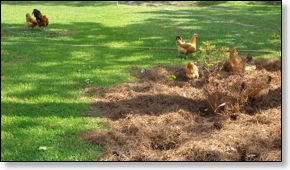 Farm fresh eggs just happen to one of my favorite foods. When we lived on our farm in Canada, we had own hens.
My Aunt Molly got some "biddies" each spring. She always supplied my Mother with wonderful eggs. Having a flock of hens is an old southern tradition.
Since we have moved to the coast on the western side of Carteret County, we have been looking for a source of fresh eggs.
Not long ago my wife and oldest daughter discovered the White House at 3346 Freedom Way (Highway 24) in Hubert, NC not far from Swansboro.
On Friday we took a trip over so I could meet the hens. I have never seen happier hens. I had no idea that pine straw is the ultimate scratching material for hens.
We took home lots of beautiful eggs. They are as nice as the Malu Aina Farm eggs that we used to enjoy in Roanoke with
our perfect Saturday morning breakfast
.
I never made it inside to see all the neat decorative items for beach homes that I suspect is the real business of the White House. I stayed outside and watched the hens who are far more entertainment than television.
All I can say is that if the decorative items are as high quality as the eggs, they must be very good.
You can give the guys at the White House a ring for more info at 910 326 3049. They are open Tuesday - Sunday: 11am - 6pm
Apr/03/08 10:47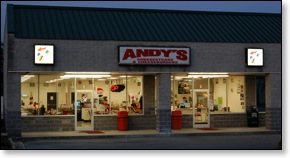 One of our favorite spots to grab a quick meal is Andy's in Swansboro.
When we get a craving for a cheeseburger or a cheese steak sandwich, Andy's is often at the top of the list.
It is a great alternative to your normal fast food places. They cook their food to order, and the food almost always makes it to your table quickly.
We really enjoy their fresh orange-aid and lemonade. They also seem to have a very clean-cut group of teenagers running the place. There's often good music playing, and it is always clean.
You can either eat at the counter or have a seat and your order will be taken and the food delivered to your table.
The restaurant is spacious and bright
so you do not feel crowded or rushed. It just out of the way enough so that many of the tourists miss it.
The great food, friendliness, and cleanliness make Andy's a favorite for us locals for an inexpensive meal.
In April they are running a six inch Cheese Steak special with fries and a drink for $4.99.
Their official address is 686 W Corbett Ave. Swansboro, NC 28584 and the phone number is (910) 325-0300.
If you are headed out of Swansboro, turn right at the light just before the Walgreens and Andy's will be on your right.