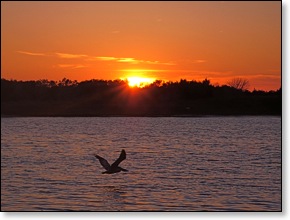 We have had a great winter so far, so I am not really complaining.
However, it has been pretty nippy the last two days.
My hands got pretty cold standing out by the Cedar Point boat ramp waiting for the sun to set.
Our weather here on the Carolina coast is not really that cold compared to
where we lived in Canada
.
Still we would all rather have some seventy degree temperatures instead of the upper forties.
I did a couple of unusual things today. First I baked bread and then I made some oatmeal cookies.
This is the fourth loaf in this iteration of my bread baking career which has only be going on for a few weeks.
I did bake bread once in a while in my early days in Canada before I got married.
These days I keep experimenting because I have been unable to find a good bakery here on the Crystal Coast. I love whole wheat bread.
This last loaf got the advantage of cracked wheat to go a long with the oatmeal flakes that I had been using.
We also added some millet which gives the bread a nice crunch. The initial taste this afternoon was very good so I am looking forward to my breakfast toast.
The oatmeal cookies were for my wife who complained that we didn't have any dessert around the house. I made cookies regularly when I lived in Canada on our first farm in Nova Scotia.
This was my first pan of cookies in 35 years so I guess baking cookies hasn't been a priority over the years.
Still it was sort of fun doing something different.