Fog hanging around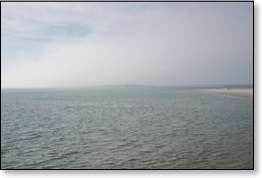 On Tuesday and Wednesday of this week we have seen some fog slide in at times.
Tuesday afternoon we were at home on the White Oak, and it looked like we were going to have a nice sunset.
It was nice to see the sun since the fog had been hanging around Swansboro and Emerald Isle for most of the day.
We left home in clear skies and before we even made it to Cape Carteret the fog was back.
A little later we stopped at the grocery store for a few things. By the time we headed back home, it was so foggy you could barely see the street lights.
Today we went over to Emerald Isle for lunch. We ran into fog on the bridge but ended up in the sunshine by the time we got to Mike's.
Later we drove down to the Point, and I snapped today's picture of the fog hanging just off the coast.
My guess is that the fog will disappear when the record temperatures take a hike this weekend.