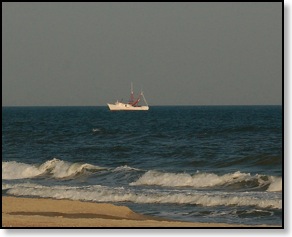 I have been patiently waiting for the season to come.
The last couple of weeks have finally brought some shrimp relief.
The shrimping boats are bringing in local shrimp and other assorted delicious seafood.
Today we actually saw one on our walk down the beach at Emerald Isle.
We have enjoyed a couple batches of fresh local shrimp recently. We did one our normal way of
creating perfect shrimp
, and I grilled one batch.
Both were excellent and confirmed my belief that there are no better shrimp than the ones that come from NC.
The weather is approaching perfection. We just need for the winds to drop a little more and everything will be right with the world.
I finally got time to stick my GPS back on the boat so today we headed down the White Oak and went out Bogue Inlet to the Point. It was good to be back out in the water.
I posted
a set of slides
of the trip from Swansboro up the ICW and out Bogue Inlet.
I will do a more exhaustive job of taking pictures the next time. I was busy piloting the skiff today
You have to watch where you are going with boats getting stuck near the ICW.