Nice sunset on the Point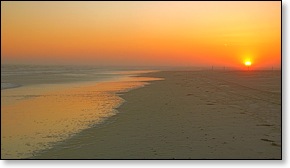 It was a little cool and breezy yesterday over at the Point.
The winds were not really bad, but as is often the case, I had no coat, and only sandals on my feet.
I knew as soon as I took the pictures that I would have a hard time choosing just one to send to Marvin at WITN.
There were a lot of great pictures, but I got my favorite for the day in at 9:00 pm. It was the first one that they showed on the 11 pm broadcast.
We managed to get three quarters of an inch in rain on Monday morning early with the thunderstorms that moved through the area. At least they waited until 5 am.
Our area has seen reasonable precipitation since the first of the year, but it still does not take the winds long to dry out the dead grasses.
I am hoping we can avoid any wild fires.
The one that we saw in Roanoke, VA
took a week to control and burned over 4,000 acres.
I did create
a neat new map of the area
using Google Maps and a service called
Map Channels
.
Google is amazing. I just wrote up
an article
on the impact of their tools on Apple.