Ballyhoos, home of my favorite Grouper sandwich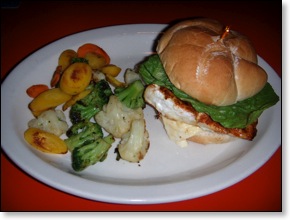 Grouper is one our area's favorite fishes.
Certain there is nothing wrong with the occasional meal of fresh
pan-fried flounder
.
Of course when you can get them a tasty Spanish Mackerel, or some local Trout hit the spot.
However, our own local Grouper remains my favorite area fish.
The advantage of Grouper is that it is widely available in our area and likely to be fresh. I have enjoyed it at other restaurants in the area, but I am pleased to report that I have found the spot for the best Grouper Sandwich.
These days I am trying to make conscious choices which result in a diet of healthier food. With that in mind I was excited to find a grilled Grouper Burger on the menu at
Ballyhoos
.
I have now had Ballyhoos Grouper Burger at least four times. It has been consistently good so I can highly recommend it.
It has become my meal of choice when I am looking for good fish. It is well seasoned and sometimes is even a little spicy which I love. It is also only $8 and is a healthy portion of Grouper.
The folks at Ballyhoos are flexible enough to let me get some steamed veggies instead fries so the meal turns out to be delicious and good for me. I even had a nice Red Stripe beer with it tonight just so I could get the full health benefit.
My wife has decided that the Chicken Quesadilla is her favorite dinner at Ballyhoos. She got hers with a Spinach Tortilla tonight. Based on the taste that I got, its also a delicious meal.
The food always tastes better with good service. I can say the service at Ballyhoos is always professional, and it is a smoke-free environment.
It is a great place for a meal.