Warmth returns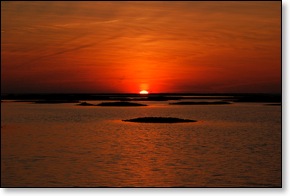 This was a great day. Our warm weather came back.
I had to work all day so I did not get to do a beach walk or anything exciting.
I still enjoyed the 70 degree temperature and not wearing a coat.
I have only had a coat on four or five times this year which is just about right in my book.
Today I did manage to sneak down to the Emerald Woods pier on Emerald Isle and take a number of pictures of yet another spectacular Bogue Sound sunset.
It is just amazing how different each of the sunsets can be.
We continued our break from cooking at home. Some friends treated us to lunch at Mike's on Emerald Isle, and I had oysters on my mind so we managed to get into Jordan's before the crowd hit.
The oyster were great. Lunch was delicious also. It is hard to beat Mike's stuffed pepper soup and their grilled reuben sandwich.
That's not bad considering we had some great pizza with friends at Trattoria in Swansboro Thursday evening.
Tomorrow I am hoping for some time to relax and catch up on my writing. We may even cook all our meals at home.