Rainy Day in the Cove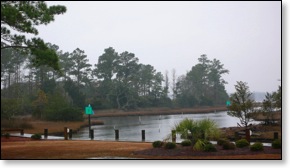 Today our rainy weather continued. It's true that we need the rain, so I will be happy that we are getting it.
Yet, it does not take much observation to notice that our ground is so saturated with this week's rains that most of the water has headed to the river.
We stayed in the mid-forties all day today.
Tomorrow we are not supposed to get out of thirties.
It could well be the coldest weather we have seen since we moved here eighteen months ago.
Based on my rough calculations, we are close to three inches in rain for January. I would say that is good start on restoring soil moisture especially considering our area close to the coast only got dry for two or three months this fall.
It looks like the snow promised for the area will mostly stay west of Highway 17 which is about sixteen miles from us.
It did not take any snow to get us curled up in front of the fireplace. We bought some take out Chinese on the way home from a quick trip to Morehead City, then we settled in to relax in front of the fireplace and watch a little Discovery Channel.
A rainy day is just as good an excuse to relax as a blizzard, you just have a few more options on what you can do.
We will see what things look like tomorrow morning. Maybe I will have a picture of coastal snow to post.