Frozen Gut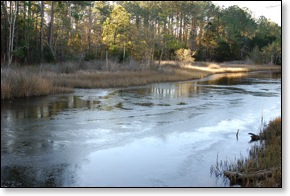 Last night was a cold night.
According to our gauge it was 22 degrees when I got up at 7 am.
It is now 35 degrees just before noon.
This would rank as one of the colder days we have seen since moving to the coast.
Fortunately there is no wind, so we didn't even turn on the fireplace this morning.
We keep the heat on 68 but my office which is upstairs and has a nice south facing window is already 72 degrees.
This morning I have watched frustrated Herons looking for open water this morning. I suspect they will have to wait until afternoon.
I don't plan on a lot of out of doors activity today, but I did manage to take a picture of
our cove iced up
.
Yesterday I did venture over to the beach and took
this picture of the sun setting
near the eastern regional access.